Book a demo
The Mall at Short Hills
Experience the world's smartest home gym. Learn about digital weight, personalized programs to help you reach your goals, or try some of the 200+ moves possible with a full-body workout — whatever works for you!
Our Clean Promise
As our showrooms reopen, here's what we're doing to
keep you safe, healthy and ready to train.
Good to know before you go: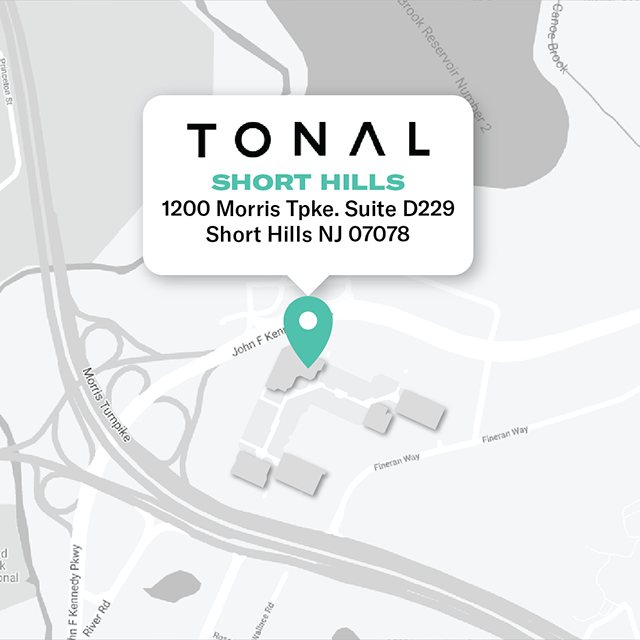 Location
Come experience Tonal at The Mall at Short Hills. To ensure we have a Tonal ready and waiting for you, please book a workout for the time you plan on visiting us. You can cancel anytime prior to your appointment. We are located on the second floor across from Crate & Barrel and next to Club Monaco. The Mall at Short Hills has lots of parking for easy access. Please allow time to park prior to your scheduled workout time.
Schedule a workout, or feel free to drop in anytime
We recommend scheduling your visit in advance so we can be sure there is a Tonal reserved for you, but appointments are not required. You can pop in anytime that works for you and our team will be happy to help you.
What to Bring
You don't need to bring anything with you to experience Tonal. However, if you are planning on a longer workout, wear appropriate clothes. We have plenty of sweat towels and water for you during and after your workout. Please note that there are no showers on-site.
No time to visit in person? Book a Live Video Demo today!
Can't make it to a showroom? No problem. You can schedule a live video demo with our team of Tonal Experts in our Virtual Showroom anytime that works for you.
Book a virtual demo