We're back with your monthly recap of new workouts, product updates, and community highlights from Tonal. Flex your pumpkin-carving muscles this October and take a peek at all the new workouts headed your way!
Craving even more Tonal inspiration? You can stay connected with us on Instagram for your daily dose of strength training motivation.
New Workouts and Programs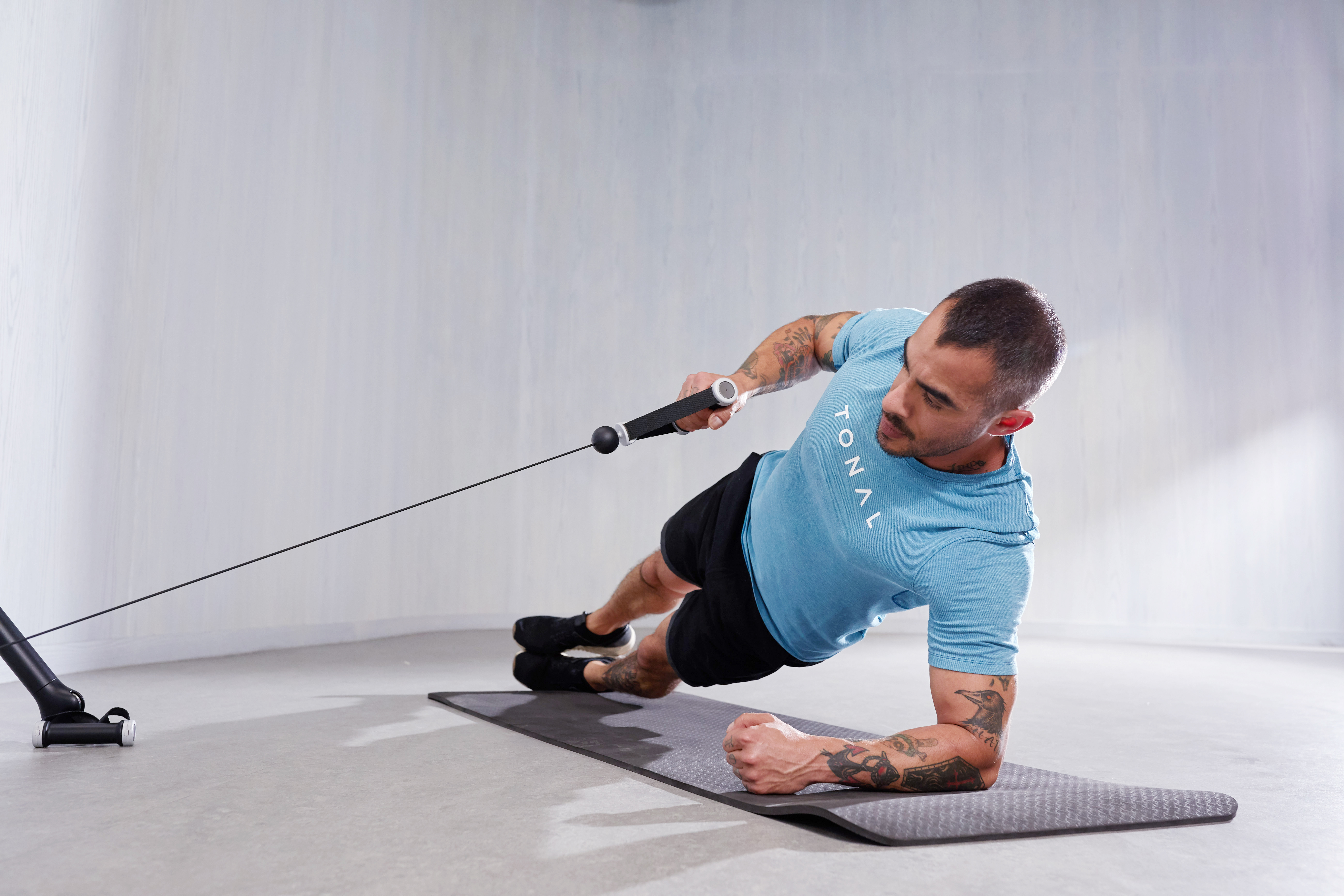 Boulder Shoulders with Coach Paul
Workout: 34 Minutes
Upper Body

Continue body building with Coach Paul in this intense shoulder workout. Train your muscles from all angles and incorporate movements that engage the entire upper body. Finish strong, confident, and closer to your goals. It's on your shoulders.
Running Strong with Coach Liz
Workout: 36 Minutes
Lower Body

Strength is power. In this workout, runners will train the muscles that help them move faster and perform better. Strengthen glutes, stabilize your core, and gain the momentum you need to finish first.
Core Punch with Coach Pablo
Workout: 20 Minutes
Core

Boxers need particularly strong core muscles to move and throw punches. Coach Pablo shows you the best way to train your trunk, paying special attention to the areas that boxers use most. Get in better shape and pack power at every match.
Body Building Break with Coach Nicolette
Workout: 20 Minutes
Active Recovery

Recovery days that work the full body are important for body builders. Engage more muscle groups with lower intensity, circulating nutrients back to the tissue and stimulating the nervous system. Get the lift you need to keep lifting.
Shoulder the Weight with Coach Liz
Workout: 20 Minutes
Upper Body

Don't forget your shoulders when you train your upper body. This workout focuses on the rotator cuff, and the role it plays in keeping you strong and injury free. Enjoy powerful conditioning that will keep you body performing at its best.
How Paul Built His Body with Coach Paul
Program: 4x/week for 4 weeks
Full Body

How does Coach Paul train on Tonal? Find out in this energizing workout. Work big muscle groups with different variations of stress, and test your willpower and athleticism. Leave knowing not just about Coach Paul, but about yourself as an athlete.
Head to your Tonal to see even more new workouts and programs this month!
Product Updates
Sync your Tonal workouts to Strava
Our new integration automatically uploads all the details from your Tonal workouts to your Strava feed. Read more.
Mobile push notifications
You can now customize which reminders and motivational messages you receive from Tonal through push notifications on your phone. Go to settings on the mobile app, click Push Notifications, then turn them on or off. Don't have the mobile app yet? Download it now for iOS or Android.
Share your workouts to social
Share your Tonal workouts to social media straight from the mobile app! Go to your Activity page in the app, tap the workout you'd like to share, then select the share icon in the upper right corner.
Enhancements to dynamic weight modes
Now you can choose a percentage (instead of weight) when enabling dynamic weight modes like Chains or Eccentric. And dynamic weight modes will now remain enabled if you adjust the weight for a move during your workout.
Join the Tonal Community
Have you joined the Official Tonal Community on Facebook? The community is where Tonal members and coaches share their experiences, exchange advice, and offer support. Join now!